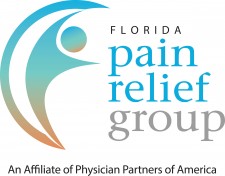 Tampa, FL, June 2, 2016 (Newswire.com) - Florida Pain Relief Group (FPRG) continues its rapid expansion in the Tampa Bay area with the addition of attending physician, Mauricio Orbegozo M.D. Dr. Orbegozo is not only an experienced anesthesiologist and pain management specialist, but a dynamic and multi-faceted individual. He has served in the nation's military and is a USAF war veteran, published author, educator, and public speaker. After graduating medical school in 1990 at Universidad del Rosario in Bogota, Colombia, he continued his post graduate training in General Surgery, Anesthesiology, and Pain Management. He served as an Instructor in Anesthesiology and Pain Management at two Texas universities and has maintained licensure as a physician and surgeon in four states, including FL, IL, IN, and TX. Dr. Orbegozo recently transitioned to the Tampa, FL area from Illinois and is currently an attending physician at Florida Pain Relief Group.
Florida Pain Relief Group, an affiliate of Physician Partners of America, is the leading provider of pain relief and pain management treatment in the Tampa Bay area.. Their specialists, like Dr. Orbegozo, combine extensive pain relief expertise with advanced therapies and minimally invasive techniques to make sure chronic pain is managed to get patients suffering in pain back to living a full, active, pain-free life.
For more information or to schedule an appointment:
Please visit www.FloridaPainReliefGroup.com or call 1-844-542-5724 (844-KICK-PAIN) to schedule an appointment. Dr. Orbegozo is actively seeing new patients in the Tampa area at the following clinic locations:
4730 N. Habana Ave. Suite 300, Tampa, FL 33614
3450 E. Fletcher Ave. Suite 350, Tampa, FL 33613
About PPOA:
Physician Partners of America (PPOA) is a national healthcare organization focused on strengthening the doctor-patient relationship and improving patient outcomes. PPOA, and their affiliates; Florida Pain Relief Group, Texas Pain Relief Group, Texas Foot and Ankle Group, Urgent Care of Texas and National Medical Practices, all share a common vision to ensure the well-being of patients and provide their physician partners the opportunity to focus on the practice of medicine. This model allows physicians to be physicians, caring about patients and their needs versus the ever complex administrative requirements. For more information about Physician Partners of America, visit www.physicianpartnersoa.com.
Source: Universal Media Group
Share: