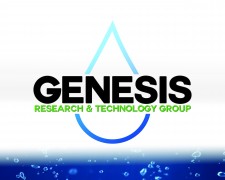 DALLAS, Texas, September 24, 2017 (Newswire.com) - The environmental impact and cost of producing just one barrel of oil is enormous. The hydraulic fracturing or fracking process uses a large amount of precious water that, in the end, is dirty water. For each barrel of oil, ten barrels of contaminated water remain. Those leftover 10 barrels of now contaminated water are trucked to disposal wells where they are contained and later transported to another location for disposal. That soiled water contains a plethora of nasty chemicals and contaminants that no one wants to go back into the earth and surface water resources. The trucks that must transport contaminated water pose high risk of damage to the roads on which they travel. So, what if those problems could be avoided completely? Genesis Research and Technology Group has the green technology that can eliminate these and many more concerns.
Genesis Research and Technology Group has a custom, mobile and, if need be, solar-powered technology solution to clean the water from oil production so that it can be reused multiple times. "The dirty fracking water can be cleaned at up to 2,000 barrels per hour, or scaled to fit a company's needs at 20,000 barrels per hour," says Ron Price, CEO of Genesis Research and Technology Group.
The eco-friendly benefits are impressive, but think about the lower impact to the roads. Genesis has created scalable, on-site technology, whereby contaminated water can be cleaned right on the job site. The expense of transporting contaminated water and the wear and tear on the nation's highway and road infrastructure is drastically reduced. That means less impact on the pockets of tax-paying citizen.
Water is the world's most important natural resource. This custom, green technology is good for the oil and gas companies, the environment, people, and the earth. To launch this endeavor into mainstream production, Genesis Research and Technology Group plans to release an ICO Sept. 27, 2017 on the cryptocurrency exchange. Michael Lagow, CAO of Genesis Research and Technology Group, projects that "The crowd funding opportunity will enable private investors to profit from this state-of-the-art green technology for years to follow." "The technology is revolutionary and will save the oil and gas industry hundreds of millions of dollars and protects the environment while at the same time, it eliminates transportation of contaminated water," says Billy Hood, VP Marketing, Genesis Research and Technology Group.
About Genesis Research and Technology Group: Genesis Research and Technology Group is a U.S.-based company that has developed a patented, state-of-the-art technology that provides clean reusable water for the world's population. The Company exploits its chemical-free technology as its efforts are being recognized by several leading government agencies developing and implementing Green technologies to protect and preserve our earth's resources.
Genesis Research and Technology Group provides custom built state-of-the-art water treatment technologies for all types of water. Years of research and development go into perfecting this technology that allows Genesis to offer its clients a sole source, reusable water filtering and cleansing technology that is totally chemical free.
Media Contact: 
Patricia Almand 
Phone: 855-810-0UMG
Email: patricia@umgad.co
Source: Genesis Research and Technology Group
Share: