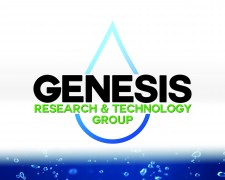 Investment-Grade ICO Launches in Days
DALLAS, October 8, 2017 (Newswire.com) - The oil and gas industry spends the lion share of the cost per barrel of oil on filling, transporting, and dumping contaminated water used in the drilling process. Industry experts have vocalized for years that the cost per barrel is directly tied to regulations about fracking water. Genesis Research and Technology Group has launched the newest system for the industry that cleans the water chemical free and can be done on the job site. "The Genesis system is a true revolution and cuts the cost of producing a barrel of oil by up to 80 percent," says Ron Price, CEO of Genesis Research and Technology Group. Genesis has been perfecting this method for three years and has tested the system in Asia, Mexico, and Eastern Europe with flawless results.
"The much anticipated ICO on the cryptocurrency exchange will be launched next week with the newly designed 'Water Token'. Investors have seen a need for green technology ICOs and one of the first is Genesis Research and Technology Group, which has been called a true 'investment grade' opportunity," MVP Asia Pacific CEO, Darren McVean states.
The validity of results from foreign markets has been key to the success of the Genesis system. Two-thousand barrels of water can be cleaned hourly on the site which eliminates the need for costly transportation and dumping fees. "Genesis Research and Technology Group's ability to clean and use water will enhance our ability to take care of parks in Texas and parks around the world! Parents will rejoice knowing that their children are playing in parks that use chemical free water," said Marlon Rollins, Dallas Park Member.
Oil production and fracking have been synonymous for years and the Genesis System will end the fracking dilemma for generations to come.
About Genesis Research and Technology Group: Genesis Research and Technology Group is a U.S.-based company that has developed a patented, state-of-the-art technology that provides clean reusable water for the world's population. The Company exploits its chemical-free technology as its efforts are being recognized by several leading government agencies developing and implementing Green technologies to protect and preserve our Earth's resources.
Genesis Research and Technology Group provides custom-built state-of-the-art water treatment technologies for all types of water. Years of research and development go into perfecting this technology that allows Genesis to offer its clients a sole source, reusable water filtering and cleansing technology that is totally chemical-free.
For more information: www.genesisrtg.com
Media Contact:
Patricia Almand
Phone: 855-8100UMG
Email: patricia@umgad.com
Source: Genesis Research and Technology Group
Share: